This is an archived article and the information in the article may be outdated. Please look at the time stamp on the story to see when it was last updated.
OKLAHOMA CITY - A frightening hold-up in the metro is caught on camera.
Last week two workers were robbed at gunpoint at a local Cash Advance store in northwest Oklahoma City.
One of the victims has not had much luck on the job.
She's now been terrorized twice in three months. 
We first showed the same victim being robbed in late April.
She fell victim again last Friday.
The good news is both times she lived to tell the tale.
At first the suspect stood at the counter and asked for a loan.
"I knew he was going to do something," said the victim. "You could tell just by the way he was acting you know."
The victim, who asked not to be identified, had the right instincts.
Within seconds the suspect pulled out a handgun and ordered the two women to fill his shopping bags with money.
"It makes you feel helpless. There's nothing you can do. I thought about running but he'd shoot me in the back," said the victim.
With a couple hundred dollars in hand, the thief ordered the two employees to the ground.
He then started to leave out the back door but changed his mind.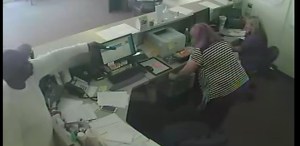 At the same time, one of the victims began to stand up only to be confronted by the suspect again.
"He pointed the gun at me again. I thought he was going to shoot me," said the victim. "I thought I was dead."
Luckily, the armed thief left without pulling the trigger.
Back in April, surveillance video showed the same victim being robbed by two different men.
One armed suspect handed a note in a red folder and demanded cash.
The same victim was then ordered to the ground.
The woman says she just can't believe her bad luck.
"For some reason they're targeting me," said the victim. "We don't carry much money. I don't know why they keep coming by."
The victim is now transferring to another store in the hopes that she won't get robbed a third time.
Police never did arrest anyone for the robbery back in April.
Anyone with information on the suspect seen in last week's robbery is asked to contact CrimeStoppers at (405) 235-7300.
MORE: 'You've got 60 seconds,' Thieves caught on camera robbing local business