This is an archived article and the information in the article may be outdated. Please look at the time stamp on the story to see when it was last updated.
GUTHRIE, Okla.- Police in Guthrie say they are looking for the people responsible for stealing thousands of dollars worth of equipment from a local cemetery.
City Manager Sereniah Breland says thieves stole over $20,000 worth of equipment from the grounds department at Summit View Cemetery.
The crooks broke into the cemetery's storage sheds and made off with a trailer, four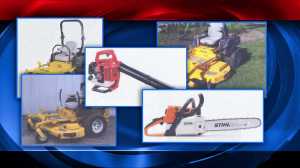 commercial lawnmowers, eight weed-eaters, several yard blowers and two chain saws.
Now, the City of Guthrie is offering a reward up to $10,000 for information that leads to an arrest, conviction and return of the stolen items.
If you have any information on the theft, call the Guthrie Police Department at (405) 282-3535.