This is an archived article and the information in the article may be outdated. Please look at the time stamp on the story to see when it was last updated.
LINCOLN, Neb. — August 21, 2017 was a historic day in America as moon-gazers coast to coast stared up at the sun in the middle of the day.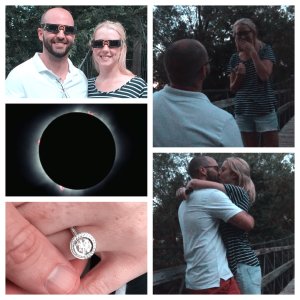 Grant Downing and his girlfriend Natalie Wells drove from Oklahoma City to Pioneer Park near Lincoln, Nebraska to the path of the eclipse to witness the celestial phenomenon in totality.
Natalie had no idea, but Grant had even bigger plans for the special day.
The couple has been dating about a year.
Just as the sky went dark, he got down on one knee and proposed.
Of course, Natalie said, "Yes!"
They plan to marry in November.