This is an archived article and the information in the article may be outdated. Please look at the time stamp on the story to see when it was last updated.
OKLAHOMA CITY — Chesapeake Energy Corporation laid off hundreds of employees Tuesday.
Officials say a total of 740 employees from all areas and levels of the company were laid off;  562 of those employees are from Oklahoma City.
The layoffs affected 15% of employees overall, but the numbers represent 19% of the Oklahoma City employees.
After today, there are about 4,000 employees left working for Chesapeake, with 2,500 of those employees being in Oklahoma City.
"I need a job," yells one Chesapeake Energy employee. Layoffs going on right now. @kfor pic.twitter.com/UTFNyc60Kq

— Sheldra Brigham (@SheldraBrigham) September 29, 2015
A filing from the company in regards to "Costs Associated with Exit or Disposal Activities" said,
"On September 29, 2015, Chesapeake Energy Corporation (the "Company") implemented a workforce reduction initiative as part of an overall plan to reduce costs and better align its workforce with the needs of the business and current oil and natural gas commodity prices.  The plan resulted in a reduction of approximately 15 percent of its workforce. In connection with the reduction, the Company estimates it will incur an aggregate of approximately $55.5 million of one-time charges in the 2015 third quarter, including related employer payroll taxes, all of which will be paid in cash during 2015."
Chesapeake Chief Executive Officer Doug Lawler sent employees a letter in regards to the layoffs.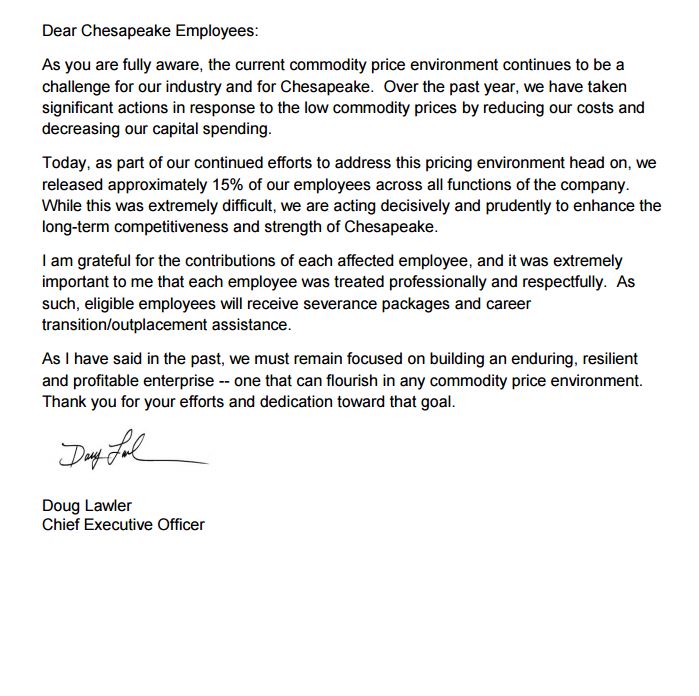 Those who are let go will reportedly receive a "generous" severance package.
This isn't the first time Chesapeake has laid off hundreds of employees.
In 2013, the company laid off 640 workers at the Oklahoma City campus.