This is an archived article and the information in the article may be outdated. Please look at the time stamp on the story to see when it was last updated.
OKLAHOMA CITY –  In recognition of childhood cancer awareness month, a family whose young daughter is now a cancer survivor is giving back to a family whose son in just starting his battle with leukemia.
On Saturday, September 27th, a non-profit called F.A.I.T.H. KIDS is hosting a bowling tournament at Heritage Lanes to benefit a five-year-old boy named Miles Malone.
F.A.I.T.H. KIDS started after a three-year-old girl named Rylie Faith Tran was diagnosed with Leukemia.
She's now eight-years-old and cancer free.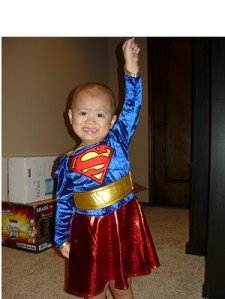 "She's a survivor story and hopefully she can give kids who are going through it some hope that there is light at the end of the tunnel," said Long Tran, Rylie's father.
Her fight has inspired the family to start F.A.I.T.H. KIDS, which stands for "Fight Against Illnesses To Heal" Kids.
For the past six years, they've hosted an annual bowling tournament to benefit a family battling childhood cancer.
This year, helping the Malone's, whose son Miles, was diagnosed with leukemia in April.
"Childhood cancer is a very serious disease, with all of them, not just leukemia and we can just start coming together more to raise awareness about what's going on," said Chris Malone, Mile's dad.
Through months of tests, troubles breathing, eating and drinking, Miles has kept his spirits high, never missing a chance to wear some of his favorite super hero t-shirts.
"Like a lot of super heroes, they have great character, he does too," said Malone.
"It's real and it's happening and kids are in pain, they're hurting and they need help, they need support," said Tran.
To donate or to be a part of the bowling tournament held on Saturday, September 27th at 4 p.m. at Heritage Lanes, CLICK HERE.