This is an archived article and the information in the article may be outdated. Please look at the time stamp on the story to see when it was last updated.
TULSA, Okla. – Two children who were the subject of a Tulsa Amber Alert have been found safe, but the suspect remains on the run.
An Amber Alert was issued Thursday evening after a shooting in north Tulsa.
Officials say the suspect, 40-year-old Jason Jordan, shot a family member during a dispute.
After the shooting, officials say Jordan then left the scene in a tan Acura TSX four-door, limo dark tint 2005 year model with 9-year-old Jace Allen Jordan and 21-month-old Andi Aliyah Rayne Jordan.
Although Jordan has custody of the two children, police believed the children were in danger due to Jordan's reckless behavior, leading them to issue the Amber Alert.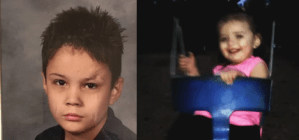 Police say the suspect, 40-year-old Jordan, described as a white male, was last seen wearing a green and white shirt with blue jeans.
Thursday night, police said they found the vehicle Jordan took off in; however, it was empty.
Around midnight, officials say the two children were found safe.  The children had been with Jordan's sister, who told police she didn't realize there was an Amber Alert for them.  Once she realized there was an Amber Alert, she took the children to a nearby QuikTrip to find police, Fox 23 reports.
Jordan is still on the loose.
Tulsa police are now looking for a black 4-door 2000 Jeep Grand Cherokee with the Oklahoma tag EUC433.
The man Jordan allegedly shot was transported to a Tulsa hospital to be treated for non-life-threatening injuries.