This is an archived article and the information in the article may be outdated. Please look at the time stamp on the story to see when it was last updated.
BELGIUM – A new item might give that needed boost to the postal system.
Belgium's postal service has issued a series of new postage stamps that smell and taste like chocolate.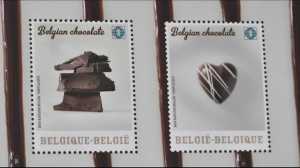 Five different designs have been chosen to represent these new chocolate-flavored stamps.
More than 107,000 sheets will be printed and sold at a cost of $8 and three cents each.
Perfumed stamps have been made in the past but this is the first time that letter writers will be able taste a flavor when licking the back of the stamps.