This is an archived article and the information in the article may be outdated. Please look at the time stamp on the story to see when it was last updated.
UPDATE: CHOCTAW, Okla. - The May 31 tornado, and the rains that came with it, caused the Canadian River to swell and eat away the land surrounding the Rhonda and Gary Buford's home.
"It's tough," said Rhonda. "It's still tough."
Four months later, the Bufords watched while workers tore down their family home.
'It was like a part of me being tore down," said Gary. "We put a lot of work into that."
"Kind of feeling lonely watching all the memories being gutted," said Rhonda.
The sound of demolition is hard on the family, but it may be a sign of relief. The family's insurance did not help them with this erosion.
Since the county condemned the home, the Bufords now qualify for FEMA aid.
However, they are faced with a new worry: will the government shutdown delay FEMA funding?
"We're trying to buy another house in Choctaw. Lots of red tape, and now that the federal government has slowed down," said Rhonda, "[We] have no idea when we'll be able to do all that."
NewsChannel 4 called FEMA to get answers. While some staff members aren't working during the shutdown, we were able to find a spokesman for the agency, Dan Watson. He assures individual storm victims that they will not be impacted.
"FEMA's response to disasters and emergencies is funded by the Disaster Relief Fund (DRF), which is not initially affected by a funding lapse for annual appropriations. Assistance to disaster survivors, for existing or newly declared disasters, will also continue in the immediate term," said Watson.
The Bufords should get their money on time.
"Its going to get better," said Rhonda. "We're going to get all this away from the river, and we're ok. This is very emotional."
She just doesn't want the government pulling the rug out from under her. Mother Nature already did.
Earlier we filed this report on the Bufords home:

CHOCTAW, Okla. - Many people are still feeling the effects of May's destructive storms that overwhelmed Oklahoma, including a family who watched their house be demolished in Choctaw on Wednesday.
After being denied for assistance from FEMA and insurance companies, tearing down the family's home was the last resort to get them the help they need..
A home where a family built over a decade of memories is now a pile of rubble.
Rhonda Buford said, "This is real hard to watch. This was our home and it was going to be our forever home."
Gary Buford said, "It was like a part of me being torn down."
Rhonda and Gary Buford woke up on June 1 to find their house surrounded by water following the May 31 storm.
Heavy rainfall caused the North Canadian River to swell and the shoreline to erode, claiming parts of their land, a tin barn and a guest house.
With their main home now hanging on the edge, action had to be taken.
Rhonda said, "We needed to go ahead and get our house torn down and out of here so we didn't pollute the river."
The demolition follows an order from the Oklahoma County Commissioners Board, listing the home as irreparable, a category that allows the Buford family to qualify for specific aid from FEMA.
Over the past few months, the Buford family has been denied financial help from federal agencies along with their insurance carries.
Now with their house a total loss, things could change.
Rhonda said, "We're trying to go on with our lives."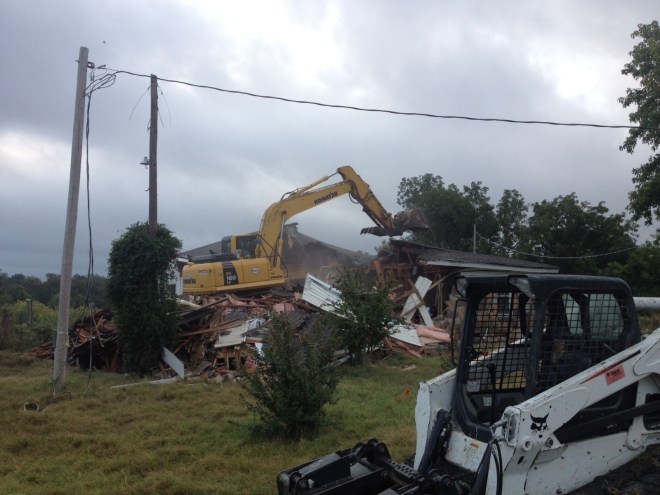 If accepted by FEMA, the Buford family would have help buying a new home.
Rhonda said, "It is only one and a half acres and it's nowhere near any water at all, so that will be our forever home."
The demolition is actually helping them start a new journey, to build more family memories.
They are currently renting a house in Midwest City.
They said it could be months until they find out if FEMA has accepted their application and appeal.
They say they expect even more delays because of the government shutdown.
MORE: Choctaw family's 'forever home' falling into river