This is an archived article and the information in the article may be outdated. Please look at the time stamp on the story to see when it was last updated.
EDMOND, Okla.- Authorities say northbound I-35 is back open after an accident brought traffic to a halt.
Shortly before 4 p.m., police responded to an accident involving a vehicle whose tire blew, which sent the SUV careening off the roadway and into a patch of trees on northbound I-35, near Waterloo Rd.
After arriving on the scene, troopers with the Oklahoma Highway Patrol shut down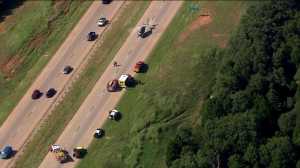 northbound I-35.
Authorities say two patients have been transported to local hospitals for treatment.
We're told the interstate is back open at this time.
Police say the vehicle was a 2005 Chevrolet Suburban Driven by Alferez, Filiberto of Oklahoma City. He was transported by Mediflight to OU Medical Center in Oklahoma City. He is in stable condition.
One passenger of that vehicle was Ana Martinez. She was transported by Guthrie EMS to Southwest Medical Center in Oklahoma City. She is listed in stable condition for observation.
The other Passenger was Arturo Alferez. He was transported by AirEvac to OU Medical Center, then transferred to Children's Hospital in Oklahoma City.
He was in serious condition with head, arm, internal/external trunk, and back injuries.
Police say the vehicle was northbound on I-35 when rear passenger side tire blew out. The vehicle left roadway to right entered into a broadslide rolled one complete turn ejecting driver and passenger two. It then struck a fence and a tree coming to rest in an upright position.