This is an archived article and the information in the article may be outdated. Please look at the time stamp on the story to see when it was last updated.
SPENCER, Okla. - A day after Mother's Day, a vase is filled with fresh flowers, casting a shadow over inscriptions on the simple headstone: "Pray for a cure" and "RKH Foundation."
Rhonda Kaye Hutson was first diagnosed with stage III breast cancer in 2008 and by July 2009, it has progressed to stage IV. Hutson died on May 6, 2010 and was buried at Hillcrest Memory Gardens. But less than a month before the 42-year-old passed away, The Rhonda K. Hutson Foundation was formed to promote breast cancer awareness within the African-American community.
But on May 7, 2018, eight years and one day after Hutson's passing, an Oklahoma City councilman was being interviewed by an investigator with the Oklahoma County District Attorney's office. Ward 7 Councilman John Pettis Jr. was asked if he could explain or clarify what appeared to investigators to be the misappropriation or use of money that belonged to charitable organizations under his care, including The Rhonda K. Hutson Foundation.
According to court records, Pettis nor his attorney, offered any explanation.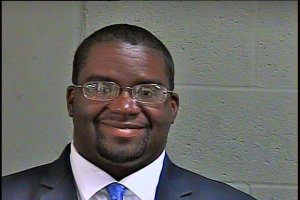 Pettis, 35, was charged last Friday, alleging he stole at least $165,000 from organizations under his control and used the funds for personal use. Prosecutors also allege he has never filed income tax returns for his consulting business and that the state has no record of Pettis ever filing an Oklahoma Tax Return.
He turned himself in, was booked into the Oklahoma County jail and pleaded not guilty before a judge Tuesday to three felony counts of embezzlement and one count of tax fraud. He was released on a signature bond. Both Pettis and his attorney did not comment. Pettis is due back in court next month.
A city spokesperson said Pettis has notified city officials he plans to resign, however a resignation letter has not yet been submitted. He has served as Ward 7 councilman since April 2013 and is currently running for District 1 Oklahoma County Commissioner.
According to a probable cause affidavit, the investigation began in April 2017 when someone contacted the Oklahoma City Police Department, "alleging criminal behavior" by Pettis. Investigators subpoenaed two banks for at least eight financial accounts connected to Pettis, which were examined by the FBI. Two accounts were for The Southern Leadership Enhancement Center (SLEC) and the Oklahoma Institute for Minority Affairs (OIMA). Both organizations are registered to Pettis at his home address as not for profit corporations, according to state records.
Pettis was the signor for a third account, The Rhonda K. Hutson Foundation (RKHF), and serves as the group's treasurer.
Hutson's mother, Lola Lee, declined to speak to News 4 about the charges, but said "I find it hard to believe" Pettis, a fellow parishioner at their southeast Oklahoma City church, would have committed the crimes alleged by prosecutors. She said would only talk at length after Pettis had the chance to explain himself.
RKHF board member Phillip Lewis said Pettis has "been a very trustworthy board member and beneficial for pushing the mission of the organization," when reached by phone Tuesday, adding that any funds taken out on behalf of the foundation have receipts.
"At every meeting, we go over the budget. It's stated what's in the budget," said Lewis. "We have trusted Mr. Pettis to serve as his role as treasurer."
"I have no reason to question the 'mismanagement' of funds, based on the small budget we have," Lewis added. "We are going to meet and get to the bottom of the allegations."
Affidavit: No record groups benefited community
Investigators were unable to verify "Pettis or SLEC performed solicited works," "OIMA performing any activities for the benefit of the community" and "RKHF performing any activity to further their stated objective," let alone the absence of required federal and state filings for charities and non-profits, according to the affidavit.
The Southern leadership Enhancement Center's purpose is "...for charitable and educational purposes," according to incorporation documents filed with the Secretary of State in August 2008.
During the investigation, it was learned the Pettis-controlled SLEC account "was almost entirely funded by contributions" from The Santreece Foundation. Court documents say the Chicago-based group donated $15,000 every six months on the premise the SLEC would "assist the impoverished community who lack the skills necessary to gain employment and participate in society."
When reached by phone at his Chicago home last Friday, Santreece Foundation President Thomas Reece said he was "Not going to talk about it. Not going to discuss the matter at all, period."
Investigators said Pettis made cash withdrawals of more than $45,890 from January 2013 through September 2014 from the SLEC account and found no evidence checks were written.
According to the affidavit, Reece told investigators Pettis and the SLEC represented they would "engage in specific activities targeting a specific demographic by offering twelve job fairs a year, assistance with utility bills, counseling, domestic violence prevention, self-esteem workshops and financial freedom workshops" and that Reece's foundation contributed to Pettis' organization based on claims it would engage with a "specific minority demographic."
His foundation, according to the affidavit, granted a total of $137,500 to the Pettis/Southern Leadership Enhancement Center from November 2009 to June 2014. Federal filings also show the foundation has donated to a number of other Oklahoma-based groups dating as far back as 2001, along with others across the country, including at least one donation in the 2007 fiscal year to the OIMA.
The Oklahoma Institute for Minority Affairs was incorporated with the state in 2005. In March 2008, the corporation was amended and Pettis was listed as the registered agent for the not for profit, which lists its purpose as being "...dedicated to the social, economic, and civic development of African-American, Native-American, Latino/Hispanic-American communities" according to state filings.
Pettis opened the OIMA account in November 2013 with a deposit of $2,000 and was the only signor on the account, according to the affidavit. Of the records reviewed by investigators, more than $27,250 was deposited and $26,248 withdrawn between November 2013 and through June 2017. During that time, Pettis withdrew $19,155 in cash and checks to others totaled more than $25,000.
Pettis, who serves as the treasurer of The Rhonda K. Hutson Foundation, opened an account in December 2011, court records show. Between January 2013 and June 2017, investigators found donations deposited totaled more than $12,550, with memos on the checks indicating "donation, fundraiser, tickets, car raffle or school supply drive," and more than $11,570 in outgoing funds. The majority of which were cash withdrawals by Pettis, including checks written to cash, ATM or cash withdrawals made in bank branches.
The affidavit says other expenses included t-shirts, an Oklahoma City seafood restaurant, big box and party stores.
The foundation currently has an expired status as a charitable organization with the state and, according to state records, does not have authorization to solicit donations within the state of Oklahoma.
In addition to the RKHF not registering to solicit donations from within the state, court records say the OIMA and SLEC also never submitted charitable organization registrations to the Secretary of State.
No taxes on file
In April of this year, the attorney general's office notified investigators Pettis had failed to file any tax returns for any of the accounts being investigated. Investigators also learned that of the records requested from the Oklahoma Tax Commission (OTC), the only record Pettis had on file was for PHA Consulting, Inc., a for profit business currently under suspension by the OTC.
According to the criminal complaint, the OTC sent letters to PHA in July 2015, November 2015, December 2015 and February 2016, detailing requirements for PHA to stay in compliance with the state. The letters also revealed PHA had not filed tax returns and not made any estimated tax payments. PHA was incorporated in March 2015.
But less than a year later, PHA was notified in the February 2016 that having failed to comply with Oklahoma franchise tax law its corporate charter was suspended and its right to do business in the state forfeited.
When Pettis was interviewed about the organization accounts, the lack of any Oklahoma tax return for him or his corporations, "Pettis nor his attorney offered any explanation."
The next day, May 8, the OTC confirmed Pettis "had no records on file" with the tax commission, according to court records, and it "has no record that John Pettis, Jr. has ever filed an Oklahoma Tax Return."
Charges were filed three days later.