This is an archived article and the information in the article may be outdated. Please look at the time stamp on the story to see when it was last updated.

OKLAHOMA CITY — It looks more like a Halloween decoration, but neighbors say a blood-stained mattress found in north Oklahoma City is real.
Neighbors say the man passed away in May and was found weeks later decomposing on his bed. 
His family is now cleaning out the home leaving the mattress for trash pick up.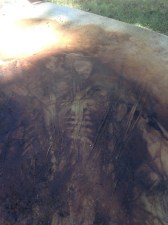 .  
"According to city ordinance they were not allowed to remove that mattress because of the body waste so they did the right thing," Debbie Ragan, Oklahoma City Utilities Department, said.
The family said they didn't know waste management wouldn't pick up the furniture and they say they have since taken it to a biohazard facility, although they wouldn't reveal which one.
Businesses like Paul Davis Emergency Services encourage using a company that specializes in biohazard waste and trauma.
"When you're dealing with anything that's biohazardous there comes a lot of blood born pathogens," Owner , owner of Paul Davis Emergency Services in Norman said.
"Just a lot of bodily fluids with diseases to go along with it so to expose it to a variety of people could be an issue."
Hall also said many insurance companies cover biohazard waste. Call your local homeowner's insurance company for more information.