This is an archived article and the information in the article may be outdated. Please look at the time stamp on the story to see when it was last updated.
OKLAHOMA CITY - The properties at Classen Circle have officially been sold to new owners.
The sale was just finalized Friday afternoon.
Now, the owners tell OKC Talk they bought it for $1.3 million and we're told they plan to save the Donnay Building.
OKC Talk first broke the story this summer that Classen Circle was on the chopping block with plans for a new Braum's to be in its place.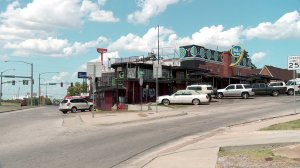 That spawned protests and outcry from fans.
"The building itself is quite unique and there's nothing else like it in the city. It needs to stay here," Ash Carreno said in October.
It also left confusion for the several businesses at risk.
"There was a lot of panic. I didn't know how to do all of this. I didn't know where we were going to go, what we were going to do," said the managing partner for the HiLo Club.
The HiLo Club is a big part of the Donnay Building. It opened originally in 1956 and became a fixture for the area.
"It's one of the oldest bars in the city, and it would just be a shame to let it die," said Chris Simon.
Braum's ended up withdrawing their application and another potential owner stepped in.
On Friday afternoon, Josh Thomas and Scott Mueller signed the contract as the new owners of the 1.4 acre space with adjacent buildings.
OKC Talk reports Braum's still owns a small house next to it.
Thomas sent this statement saying:
"We are excited to own a property that has played such a prominent role in Oklahoma City and that has been appreciated by so many people for so long."
Simon says he is just relieved he can focus on what's next for his bar.
"We'd love to do a high club. We would love this to be the low club. We would love to have a patio and then maybe a food option," Simon said.
Click here to view OKC Talk's report.