This is an archived article and the information in the article may be outdated. Please look at the time stamp on the story to see when it was last updated.
CANADIAN COUNTY, Okla. – It was a close call for a sheriff's deputy who was arresting a murder suspect.
On April 10th, officials with the Canadian County Sheriff's Department say deputies were called to reports of a disturbance outside of a Calumet convenience store.
The disturbance involved two men whose vehicle was broken down.
When authorities arrived, they found John Rather, 35, and Robert Bugos, 28, sitting in the vehicle outside of the convenience store.
The deputy who responded to the scene approached the men and instructed the driver to exit the vehicle.
After observing the driver pull something from the center console and tuck it in his waistband, the deputy instructed the driver to lift his shirt so he could see what the driver had hidden.
The deputy determined the man had put illegal drugs inside his waistband.
While the driver was being placed in handcuffs, the deputy says he heard a clicking noise coming from the passenger side of the vehicle, which he believed to be the cocking of a firearm.
That is when the deputy pushed the driver onto the ground, pulled his weapon and ordered the passenger to exit the vehicle.
The deputy was able to place the passenger in handcuffs.
He then searched the vehicle where he found two loaded handguns, including a cocked 9mm high point semi-automatic that was found on the passenger's side.
"I have no doubt the clicking noise was the cocking of the passenger's pistol, and had it not been for the mental awareness of our deputy he may very well have been shot," said Chris West, Canadian County Undersheriff.
The men, later identified as 35-year-old John Rather and 28-year-old Robert Bugos, were arrested and booked into the Canadian County Jail.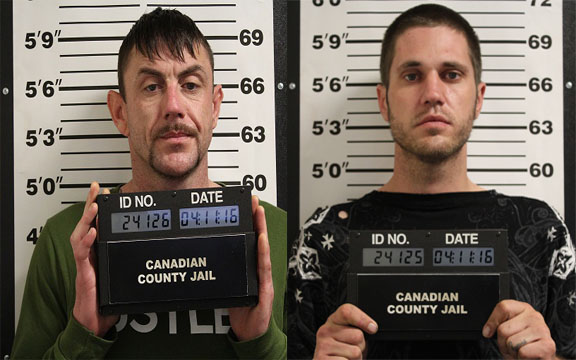 Both men are facing charges for possession of a controlled dangerous substance with intent to distribute, possession of a controlled dangerous substance, and use of a firearm in the commission of a felony.
Deputies later discovered Rather is also wanted for murder out of Ottawa County.