This is an archived article and the information in the article may be outdated. Please look at the time stamp on the story to see when it was last updated.
OKLAHOMA CITY – In NewsChannel 4's 65th year in broadcasting, Heartland Emmy Awards recognized KFOR for Breaking News, Team Coverage, and Promotion honors.
This is the 28th annual Heartland Regional Emmy awards.
NewsChannel 4 received a total of eight Emmy awards!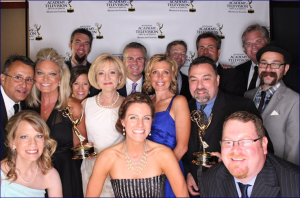 Congratulations to NewsChannel 4 staff for this recognition for high quality work!
For the complete list of nominees, click here. 
BIG HUGE CONGRATS to @chelliemills & Micah Leon on their first Emmy!!! Great work guys.. #HeartlandEmmy pic.twitter.com/NKpFOoacPB

— Ali Meyer (@amanchor) July 13, 2014
Emmy Award for best presenter goes to.. @emilyrsutton CONGRATS! #HeartlandEmmy pic.twitter.com/z0G39td2im

— Ali Meyer (@amanchor) July 13, 2014
And…. @kfor wins the big one! BREAKING NEWS. Congrats to the team! #HeartlandEmmys pic.twitter.com/e93xtaDAoj

— Ali Meyer (@amanchor) July 13, 2014
Thanks to @blooutokc for another amazing hair do! I'm loving the romantic old-Hollywood era hair for tonight's Emmys! pic.twitter.com/M13NCzGq2w

— Emily Sutton (@emilyrsutton) July 12, 2014
So honored to even be nominated in the same category as these two gentlemen! @KOCOdamonlane #bestmet #HeartlandEmmys pic.twitter.com/9RSo9MfPPm

— Emily Sutton (@emilyrsutton) July 13, 2014
What a fun night! @HeartlandEmmy pic.twitter.com/kJCPfRKZke

— Chellie Mills (@chelliemills) July 13, 2014
"@LucasRoss: "@HeartlandEmmy: And the Emmy for Program Promo Image goes to… KUAT from Oklahoma City" pic.twitter.com/svN2ufK5mU" yay! Congrats

— Chellie Mills (@chelliemills) July 13, 2014
Yay!! #HeartlandEmmy pic.twitter.com/L0JR97gCjS

— Chellie Mills (@chelliemills) July 13, 2014
KFOR wins Emmy for Moore Tornado Coverage pic.twitter.com/qMK13F11kq

— Linda Cavanaugh (@linda4news) July 13, 2014