This is an archived article and the information in the article may be outdated. Please look at the time stamp on the story to see when it was last updated.
OKLAHOMA CITY - It was standing room only at the Oklahoma Turnpike Authority's meeting Tuesday morning.
There's a lot of interest in the future path of a turnpike loop, because it could end up displacing many people in eastern Oklahoma County.
The new highway would connect I-40 to I-44 somewhere in the area of Peebly Rd.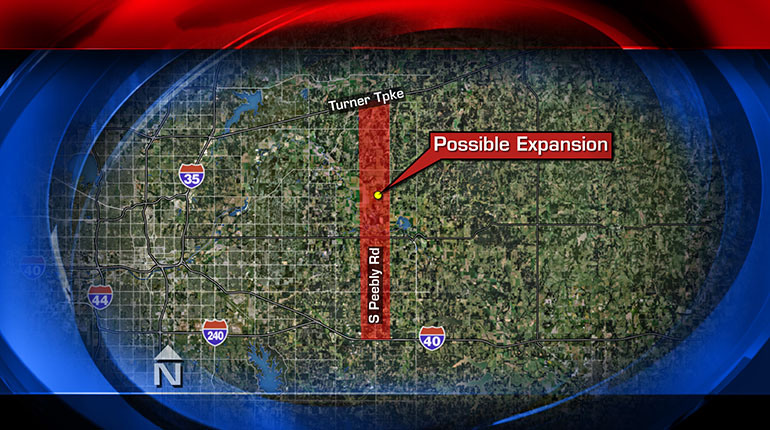 Congressman Steve Russell made an appearance at the meeting, saying he too could be affected by this.
He's a homeowner in Choctaw and is asking for better communication.
"And, that we don't have any surprises and people don't just come and put an 'X' in your front yard, which we've had admissions by folks already that that was probably not the best thing to do," said Russell.
Those X's were placed throughout eastern Oklahoma County for aerial mapping by the Turnpike Authority to help them determine the exact path the new highway will take.
But, Russell also said his right to his property may be outweighed by a greater good.
"That's not what I desire, but it may be best for the entire community," said Russell.
Others were not as gracious when it came to the possibility of losing their homes.
"It appears to us that this is a political move and not necessarily for the residents," said Nan Burns.
"It's 21 miles of destruction. It's 21 miles of people's homes, people's farmland, people's work," said Nicole Blair.
But, not everyone is opposed to the new turnpike.
The mayors of Choctaw, Harrah, Jones, Luther and Nicoma Park have all thrown their support behind the road.
"I don't think it's an overwhelming support for stopping it," said Ray Poland, the mayor of Jones.
The Turnpike Authority insists they still do not have an exact route for the new highway.
The chairman says they will continue having meetings to gather the public's input.