This is an archived article and the information in the article may be outdated. Please look at the time stamp on the story to see when it was last updated.
OKLAHOMA CITY – A contraband search at a halfway house in Oklahoma City led officials to an escape hatch, officials said.
Authorities were searching the Center Point halfway house in Oklahoma City for contraband when they found a false wall in a room allowing inmates to leave the facility after coming back and checking in with security from daily work assignments.
Originally built as a hotel, the halfway house was purchased by Center Point in 2005 and converted to house inmates who are nearing the end of their sentences.
Inmates serving time at the facility are able to leave during the day to look for jobs or go to work.
With the hotel style layout, only rooms with doors facing the interior of the complex are used to house inmates.
Exterior rooms remain locked and out of service.
According to a release from the Oklahoma Department of Corrections, the inmates at the facility removed drywall in a bathroom connecting to an exterior room facing the street.
The inmates covered the hole with lightweight material to make a false wall for easy access outside the facility.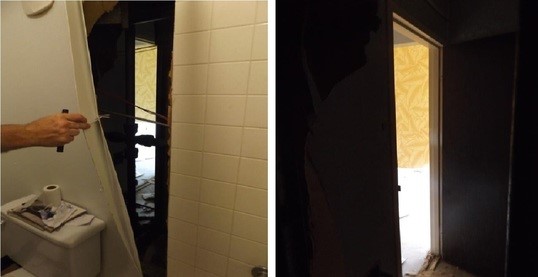 Corrections Director Joe M. Allbaugh said the department will investigate the security measures at the facility.
Additionally, the inmates will face consequences that may lead to more time added on to their sentence and result in movement to a higher level of security.
"Halfway houses are designed to allow inmates to transition back into society while remaining clean," Allbaugh said. "This lack of accountability and oversight is unacceptable. I expect Center Point's cooperation as we look into its security standards."
The search lasted two-and-a-half hours and was conducted by 35 correctional officers, 24 Corrections Emergency Response Team members and six K-9 units.
The task force also utilized CellSense towers and deep tissue scanners during the raid.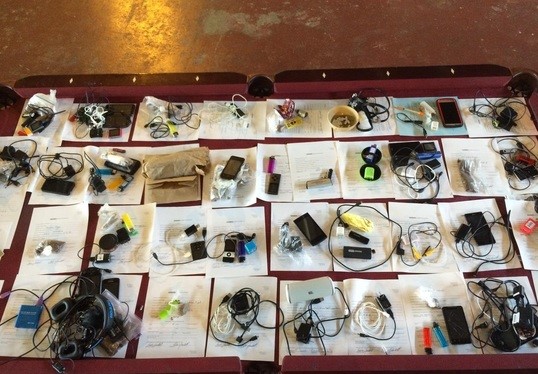 The following contraband was seized by the teams during the bust:
18 cellphones
87 cellphone chargers
4 grams of marijuana
.6 grams of methamphetamine
39 syringes
A half-gallon bottle of vodka
2 pounds of tobacco
2 cans of chewing tobacco
89 lighters
65 electronic devices
An improvised sexual device
Applauding the work of the task force, Director Allbaugh said the efforts to pull contraband out of inmates' hands will increase.
"Our teams will continue to go into everywhere the department has a footprint unannounced to eliminate our contraband problem," Allbaugh said. "I appreciate the efforts of the men and women who ensure the safety of our facilities and the public."