This is an archived article and the information in the article may be outdated. Please look at the time stamp on the story to see when it was last updated.
OKLAHOMA CITY – A man has been charged in an Oklahoma City peeping Tom case.
It happened earlier this month just before 5:00 a.m. in the 2800 block of Dorchester Drive.
The woman in the home told police she was sleeping when she heard dogs barking. When she got up, she saw a man going window-to-window around her house, including windows into her kids' rooms. She immediately woke up the man she lives with who then confronted the suspect.
"He saw the person also," said MSgt. Gary Knight of the Oklahoma City Police Department. "Went out and confronted him, told him he needs to leave."
Police say when the male victim said he was going to get his gun, the suspect, 34-year-old Bryan Hastings, said "Ya'll are trippin" and started to leave.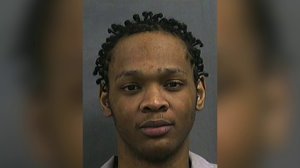 "The male victim followed the suspect, giving 911 updates as to where he was," Knight said.
Officers eventually caught up to Hastings behind a nearby business and took him into custody.
Last week, he was charged with the crime of peeping Tom.
Hastings has a long list of past offenses, including first-degree rape of a victim under the age of 14 and failure to register as a sex offender.
He is now registered as a sex offender.