This is an archived article and the information in the article may be outdated. Please look at the time stamp on the story to see when it was last updated.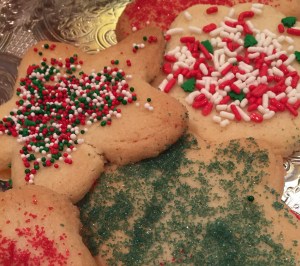 Homemade gifts are always appreciated - especially when they involve loved ones or close friends. Rather than battling parking at the mall, why not spend some fun, quality time decorating much loved cookies? The recipes are easy and inexpensive, and the results are fantastic! Here are a few of Kyle's favorite recipes - along with a trick for colored sugar.
Basic Sugar Cookies:
2 C All Purpose Flour (plus a bit extra for rolling)
1/2 t baking powder
1/4 t salt
1 stick butter, room temperature
1 C granulated sugar
1 egg
1 t almond extract
Using a large bowl, whisk together dry ingredients.
In electric mixer, cream butter and sugar until light and fluffy. Beat in egg and almond extract. Reduce speed to low, and slowly add dry ingredients until thoroughly blended, (use spatula to knock down sides of necessary)
For drop cookies: Drop by teaspoonful on ungreased cookie sheet, spacing 2" apart. Bake at 350 until edges are golden brown.
For cutout cookies: Chill dough until firm (may use freezer or refrigerator) Roll out on lightly floured surface until 1/4" thick. Cut cookies, place on ungreased cookie sheet and bake at 350 until edges are golden brown. Enjoy "as is," or allow to cool completely before decorating.
Glossy Cookie Icing:
1 C confectioners sugar
3 t milk
2 t corn syrup
1/4 t flavored extract (Vanilla, Almond, Lemon are my favorites)
Few drops food coloring - adjust to desired color
In bowl, place 3 t milk. Gradually whisk in confectioners sugar. Whisk in corn syrup and extract. Add food coloring to desired color. This icing will dry glossy and cookies may be stacked, but allow plenty of drying time.
Colored Sugar:
Place desired amount of sugar in bowl. Add food coloring to desired hue and mix thoroughly. Spread mixture on flat plate or cookie sheet and allow to dry overnight.