Fresh and easy summer corn recipe
This is an archived article and the information in the article may be outdated. Please look at the time stamp on the story to see when it was last updated.
OKLAHOMA CITY–Even though the calendar doesn't say Summer has officially arrived, we feel like it has when grocery stores receive fresh corn.
This is a fantastic salad which makes use of fresh corn, and our other garden favorites!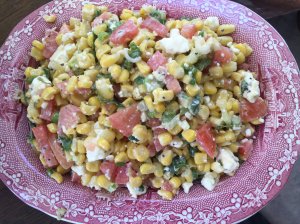 First, let's talk corn.
If it is fresh and sweet, there is no need to cook it.
If it has been a few days since the corn was picked, or it is not perfectly ripe, the corn may be steamed briefly in the microwave.
Wrap the entire ear in a damp towel, place in microwave and cook on high power for about 4 minutes. The husk and silk will peel right off!
3 C fresh corn kernels
3 ripe Roma tomatoes, or 2 ripe regular tomatoes, diced
1 C (roughly 4oz) crumbled Feta
1/4 C chopped green onion, including a bit of green stem
3 T Extra Virgin Olive Oil
1/2 C chopped fresh Basil
Salt and Pepper to taste
In a medium bowl, toss corn, tomatoes, Feta and onion. Add olive oil. Toss again to thoroughly. Add basil and lightly toss to blend. Add salt and pepper to taste. May be served immediately or held a few hours. Serves 4-6