This is an archived article and the information in the article may be outdated. Please look at the time stamp on the story to see when it was last updated.
PENNSYLVANIA – This baby seems to be doing A-okay in the womb.
Soon-to-be parents in Pennsylvania apparently got a thumbs up from their unborn child.
Check out the ultrasound.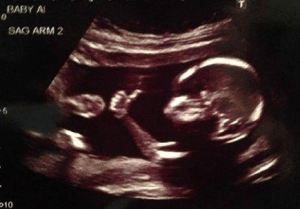 You can see its tiny fingers folded and what looks like a thumb sticking up.
The parents told HLNTV they are expecting twins, but don't know the sex of the babies yet.
Dad-to-be, Brandon Hopkins, posted the picture to Reddit last week.
The babies are due to arrive in January.