This is an archived article and the information in the article may be outdated. Please look at the time stamp on the story to see when it was last updated.
BETHANY, Okla. – No injuries were reported after a large fire in a metro mobile home park. It happened near N.W. 50th and MacArthur.
"I look out here and, the next thing you know, I'm seeing a bunch of flames and it's the trailer caught on fire," said resident Teresa Robles, who lives just yards from the fire.
Shaum Jennings, deputy chief of the Bethany Fire Department, told News 4 they were alerted by dispatch of a structure fire in the mobile home park.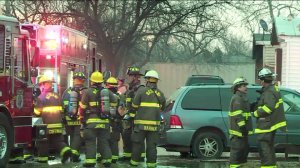 Officials said the fire also spread to three cars. Robles said she could hear the explosions.
"Two vehicles that basically blew up from the heat," Robles said.
Thankfully, all occupants in both homes got out safely.
"God was on their side pretty much," Robles said. "Other than that, I'm just glad they made it out."
The Red Cross will be stepping in to help.
The cause of the fire is under investigation.