This is an archived article and the information in the article may be outdated. Please look at the time stamp on the story to see when it was last updated.
WHEATLAND, Okla. – Emergency crews responded to a call that a pickup truck slammed into a home.
When crews arrived they found the pickup truck missed the house, but took out a fence and slammed into a tree.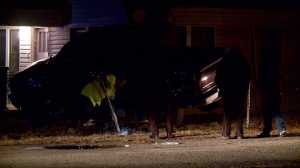 This happened late Friday evening on Newcastle Rd. in the community of Wheatland.
Several ambulances responded to the scene.
NewsChannel4 was told the driver wasn't seriously hurt.