This is an archived article and the information in the article may be outdated. Please look at the time stamp on the story to see when it was last updated.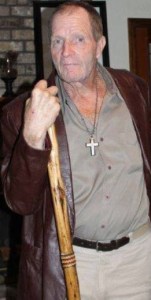 CHECOTAH, Okla. – Crews are searching for a missing 70-year-old man in McIntosh County.
The McIntosh County Sheriff's Office is looking for Toney 'Mikel' Young.
Young wandered away from his home five miles west of Checotah near I-40 and Lotawatah Road.
He has been missing for almost two weeks.
"We have searched high and low for Mr. Young" said McIntosh County Deputy Scott Pelley. "We believe he has some limited outdoor survival skills and regularly hikes in the areas near his home, but we still have no signs of him in the places he frequents."
Young is a diagnosed Alzheimer's and Parkinson's Disease patient.
Young was last seen wearing jean shorts and a blue button up shirt. He has a thinning hair line and wears a cross necklace. In addition, he is believed to be walking with a large walking stick.
The Oklahoma Wing of Civil Air Patrol is currently also conducting both an aerial and ground search.
If anyone has seen Young, they are encouraged to contact the McIntosh County Sheriff's Office at 918-689-2526.