This is an archived article and the information in the article may be outdated. Please look at the time stamp on the story to see when it was last updated.
OKLAHOMA CITY – A politician's visit to a classroom ended with small, independent school district Crooked Oak at the center of a political battle, and candidates on both sides pointing the finger for "dirty politics." It came to a head at a school board meeting Monday when one of the district's teachers, a Democratic state house candidate, and her supporters voiced their dismay at actions taken by the school board.
"It's sort of like a slap in the teeth," said Nadine Gallagher, a Crooked Oak Middle School English teacher and Crooked Oak Teacher's Association President, during the board meeting Monday night.
The controversy started when State Senator Paul Rosino toured Crooked Oak Public Schools last month and stopped into teacher Amanda Jeffers' classroom. While the Oklahoma City Republican was in the room, Jeffers said she asked Rosino to talk to her high school English students about his legislation, including a bill he co-authored on work requirements for SoonerCare recipients. The legislation, HB 2932, passed the house and senate (mostly along party lines) and was signed into law by Gov. Mary Fallin this past spring.
"He just said, 'Yes I did. I think that all able-bodied people should work at least part-time in order to receive this benefit,'" Jeffers said. "And that was essentially the end of the conversation."
Jeffers is the Democratic candidate for House District 91 and will face Republican incumbent State Representative Chris Kannady in November. Jeffers posted about Rosino's visit and her opinion about his work requirement legislation on her candidate Facebook page later that evening:
In the comments section, she continued, saying:
"I'll add that I really did enjoy having Senator Rosino come by. I think it's great for our students to engage with politics and politicians. One of the things I try to emphasize is that civic engagement is vital. Students need to see that politics isn't some abstract thing; it's real people in their communities making decisions that affect their lives in real and meaningful ways.

We may not always agree on how to solve problems, but continuing to engage and work together to find common ground is essential to improving our state."
Less than a week later, and without Jeffers' knowledge, the Crooked Oak Public Schools superintendent and school board issued a signed apology letter to Rosino for Jeffers' post, calling it "grossly inappropriate."
Shortly after, copies of that apology letter made the rounds, taped to people's front doors, along with an additional comment that said:
"Amanda Jeffers is a Democrat candidate and teacher who was so rude to her guest that the entire Crooked Oak School Board called her actions "grossly inappropriate" and issued an apology. Isn't it like the far left to forget civility and use our public schools to push their liberal agenda?"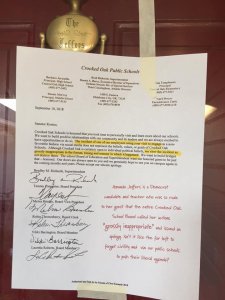 According to the letter, it was "Authorized and Paid for by Friends of Chris Kannady 2018," Kannady's own candidate committee.
Kannady declined to be interviewed, and released the following statement:
"My opponent used a classroom visit to push an agenda. As a champion for schools, it's disappointing when the public's trust is violated for political purposes, and it damages our efforts to move education forward. Senator Rosino is a champion for public education.  I'm sad his visit was tainted by these political theatrics."
Rosino also declined to talk on camera to News 4, and instead released the following statement:
"I was thrilled to get to spend a day visiting with students and teachers at Crooked Oak to show my support for our public schools. Unfortunately, Ms. Jeffers, who is a Democrat political candidate currently running for office, saw it differently. She used it as an opportunity to further her political agenda in her classroom and on her political Facebook page."

"After the incident, I received a letter of apology from the Crooked Oak school district. While the letter was warranted and appreciated, I received the letter without any solicitation on my part."

"I shared the letter with Representative Kannady, who is my own state representative, in order to make him aware of the interaction I had with his political opponent."
But Jeffers said she didn't criticize Rosino or his policy in front of her students.
"That's why I waited until I was in the right context to give my opinion on his policy," Jeffers said, "which is outside of school on my Facebook page."
News 4 made multiple attempts to speak with Crooked Oak Schools Superintendent Bradley Richards throughout the day Monday, as well as before and after the school board meeting. During the meeting, Jeffers and supporters told the school board and superintendent they didn't believe apology letter was necessary, or even the right thing to do.
"If he co-authored that bill, he should have been thrilled to stand up there, and talk to those kids, and say, 'I believe this, this is my opinion, and that's fine,'" said longtime teacher Valere Hull. "That's what government`s all about."
When News 4 asked what prompted the board's apology letter, or whether Richards or the board knew how the letter would be used, neither Richards nor the school board members would comment.