This is an archived article and the information in the article may be outdated. Please look at the time stamp on the story to see when it was last updated.
MOORE, Okla.- Dozens of people lined up on Tuesday morning to become some of the first customers to visit the new Dairy Queen in Moore.
Some of them waited hours in the cold for Dilly Bars, Blizzards and steak fingers.
It's been 15 years since Moore has seen a Dairy Queen and it's the last store to open in
the country this year.
As soon as the doors opened, hungry and eager people made their way inside to place their order for ice cream, hot dogs and ice cream cakes.
For Nancy Dickinson, Dairy Queen has some sentimental value.
She said, "I love the hot dogs, I love the ice cream-dipped cones back when I was a little tiny girl back in Washington."
It's more than just the food; a new DQ in Moore symbolizes recovery.
Dickinson said, "One of my friends from Washington asked me on Facebook, he asked me, 'Is Moore rebuilding?' I said 'Slowly, but surely,' and this is a really great start."
Abby Enloe came from Oklahoma City to check out the new store.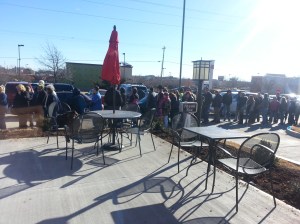 Enloe said, "I like the Oreo Blizzard. I like Oreos a lot."
She was one of the first 100 customers in the door, which means she received a special deal.
She said, "You get a cake and then get a free cheeseburger every week."
A free cheeseburger every week for a year, a great deal to ring in 2014.
Enloe said, "We're really excited to have it now."
The Dairy Queen in Moore is located on 19th St. and Telephone Rd. and will be open seven days-a-week from 10:30 a.m. to 10:30 p.m.