This is an archived article and the information in the article may be outdated. Please look at the time stamp on the story to see when it was last updated.
OKLAHOMA CITY – Oklahoma's own Darci Lynne has announced she will be going on tour in 2019 and will be making a stop in Oklahoma City!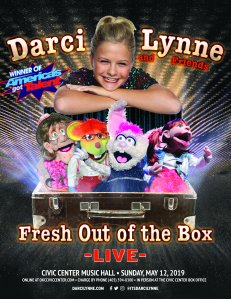 Darci Lynne is a singing ventriloquist from Oklahoma City who won hearts across the country and the national competition, America's Got Talent, last year.
Since her big win, she's been traveling across the country with her musical friends: Petunia, a divaesque rabbit;  Oscar, a shy and soulful mouse; and Edna, a sarcastic old woman.
And, her traveling hasn't stopped yet!
She will be hitting the road in 2019 for her "Fresh Out of the Box Tour."
Her stop in Oklahoma City is set for Sunday, May 12, 2019, at the Civic Center Music Hall at 3 p.m.
Tickets go on sale October 26 at 10 a.m.
Click here for more information.