This is an archived article and the information in the article may be outdated. Please look at the time stamp on the story to see when it was last updated.
It sounds like a scene from a Mafia movie: Minutes after the brother of an assault victim testifies for the prosecution, the defendant's brother fatally shoots the witness as he's driving away from the courthouse in broad daylight. The victim's other brother, who had also been scheduled to testify, was slain nine weeks prior.
But these are real-life allegations out of Alabama, where Montgomery Circuit Judge Roman Shaul on Tuesday declared a mistrial in the assault-and-attempted-murder case of Jacquees Boone.
The mistrial came after Boone's brother, Josephus Boone, was arrested and charged with capital murder in the fatal shooting of Kelvin Cooley, 31, who had just testified against Jacquees Boone.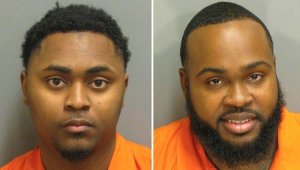 Investigators from the Montgomery County District Attorney's Office had escorted Cooley to his vehicle Monday afternoon. He was driving away from the Montgomery County Courthouse with his sister when Josephus Boone shot him, about a half block from the courthouse, according to District Attorney Daryl Bailey and a police statement.
It appears Cooley exited his vehicle and returned fire before collapsing, police say. He was transported to Baptist Medical Center South, where he was pronounced dead the next day.
"Further investigation indicates that the shooting stemmed from a possible ongoing dispute that may have escalated during a current trial," a Montgomery Police Department statement says.
Lawyers from both sides of Jacquees Boone's case questioned jurors after the shooting, and Shaul declared a mistrial, citing "manifest necessity," which in layman's terms means an event unlawfully influenced a juror.
Bailey said he intends to retry Jacquees Boone's case, while the Alabama Attorney General's Office will handle Josephus Boone's case because Bailey's staff members were witnesses to the alleged shooting.
"I certainly understand why the judge made that (mistrial) decision, because there were actual jurors who heard the shooting. Some actually saw the victim after he had been shot. And several of the jurors, despite the judge's instructions, had watched the news," the prosecutor said.
He continued, "It takes someone who is obviously very evil to come to the courthouse and commit a murder basically on the courthouse steps. …. This is the first time I've seen this happen in my 20-year career."
Family affair
The case began on March 29, 2014, when one of Cooley's brothers, Alondre Cooley, was walking down a street in west Montgomery. Jacquees Boone, who had known Cooley since childhood, was with a friend in a nearby vehicle, according to court records.
Evidence in Jacquees Boone's original trial showed that Alondre Cooley's mother, seeking to reduce her own sentence in a drug arrest, assisted police in making "controlled drug buys" from Boone and some of his friends.
As a result, at least one of those friends, Richard Freeman, was arrested and authorities executed a search warrant on Boone's home, court records indicate.
When Boone saw Alondre Cooley walking down the street in 2014, he shot Cooley once in the face, court documents say. Cooley suffered permanent injuries and spent months in the hospital.
Boone was convicted in the shooting and as a habitual felony offender was sentenced to life in prison, the documents say.
On appeal, Boone claimed that prosecutors erred in admitting evidence that he and Freeman were part of a gang. The Alabama Supreme Court concurred and remanded the case to the Montgomery Circuit Court in September 2016.
Another brother killed
Kelvin Cooley was the third witness called in Boone's retrial on Monday. In August, another brother of Alondre Cooley who was scheduled to testify in Boone's case was also slain.
According to police, Marcus Cooley, 23, was killed by "gunfire that entered the residence" he was occupying on August 20. The shooting appeared drug-related, police said at the time.
Curtis London turned himself in the next day and remains in the Montgomery County Detention Facility charged with capital murder. He is being held without bond.
After declaring the mistrial Tuesday, Shaul ordered that Jacquees Boone be held without bond in connection to Kelvin Cooley's murder, CNN affiliate WSFA reported. A voice mail message left for Jacquees Boone's attorney was not immediately returned.
It was not clear if Josephus Boone has a lawyer. It was also not clear if the state Attorney General's Office will seek the death penalty in the case, as a message left with the press office was not immediately returned.
Bailey, the district attorney, told CNN that Josephus Boone is believed to be the lone shooter, but the killing remains under investigation.
"This is the most serious crime you can commit, when you're interfering with the justice system and you're actually murdering a witness in a case," he said.
The incident has spurred the courthouse staff to re-evaluate its security protocols, Bailey said. There are already many precautions in place — including providing a special entrance for witnesses — but the staff will look at anything it can do better or differently to bolster the security of witnesses and others visiting the courthouse.
"We're going to do what we can to make sure that people are protected, and I truly believe that once people see that there are consequences for committing this type of action, you're not going to see that repeated," he said.
"Obviously, we don't want to ever see this happen again."