This is an archived article and the information in the article may be outdated. Please look at the time stamp on the story to see when it was last updated.
DEL CITY, Okla. – Del City Fire crews were called to a multi-unit fire at the Reno Self Storage on 3150 East Reno just after 2 p.m. Saturday.
Del City Fire crews arrived on scene and encountered heavy smoke and fire from several of the storage units.
Del City Fire Chief, Brandon Pursell, says  additional crews from Midwest City, Tinker and Oklahoma City responded and assisted in extinguishing the heavy-fueled fire.
"Preliminary estimates are that 12 storage units have been damaged, several had contents a complete loss," said Chief Pursell.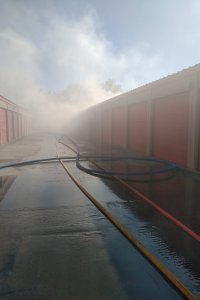 The fire was ruled accidental after an on-scene investigation found some welding in one of the units.
Crews are still on scene, checking for any smoldering or hotspots.
No damage estimate has been determined.
One firefighter was evaluated on the scene by Midwest EMS and was cleared to return to duty. No other injuries reported.
A total of 53 firefighters were on scene.