This is an archived article and the information in the article may be outdated. Please look at the time stamp on the story to see when it was last updated.
DEL CITY,Okla. -- Flooding has affected many areas around the metro. In Del City, it's even affecting horses.
Gray Ranch: A new beginning, is a horse rescue in the metro.
Many of the horses have already been taken to a different shelter for fear of more rain, and when you see the damage, you'll understand why owners are worried.
"It was about 6 inches deep or more and about 4 feet wide a wall of water, that's what started this," Mike Gray, rescue owner said.
It's the beginning of a big headache. Little did he know, less than one month after the May 6 rains, the record-breaking rains would destroy his property.
"This fence, these posts were three feet in the ground, it kept our horses in our pasture and now you can see that fence is gone the road is gone," Gray says.
A mini-canyon is replacing the horses' sanctuary.
"It's overwhelming to say the least," Gray said.
Rain will come down the hill rushing through the middle of their back yard, and once it starts raining more, it leads to sinking red dirt. With more rain expected, the family is afraid trees will fall over and cause even more destruction.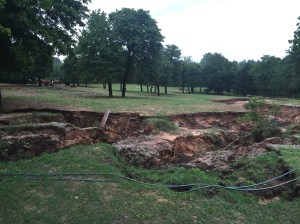 "Fear is that it just keeps coming and coming and we'll get to the point to where we have to do something else with the animals and the rescue will be in question," Gray says.
The horses are already suffering.
"They have rain rot where they just stand out in the rain so long because they don't want to get in the shelter because of the noise," Gray said.
While there's nothing they can do about the rain, the family is trying to divert the water.
"Nobody has sandbags anymore because they're pretty much out," Veronica Gray says.
And when water begins to rage with power, they brace for the worst and hope for the best.
"Sometimes you don't know what to do but you keep taking one step at a time and you do what you do," Gray says.
Rescue owners are looking for anyone with dirt and heavy equipment to help when the land dries off.
For more information, they have set up a fundraising page for more help.