This is an archived article and the information in the article may be outdated. Please look at the time stamp on the story to see when it was last updated.
CONNECTICUT – A woman hearing cries in a Connecticut neighborhood thought someone was in danger.
But it wasn't a person in distress … it was a parrot.
At first the woman hearing the voice didn't know what to think.
She was near a school in a Fairfield neighborhood when she heard what sounded like child's cries for help.
"The voice kept saying daddy, daddy,daddy, then said what? Almost as if the child was talking to someone else."
The woman called police and then started following the cries.
As she was looking for the source of the voice, she kept following it and brought her to a tree near the school where she looked up and saw it was a parrot.
Yes, you heard it. Ralphie to be exact. The voice the woman was hearing was not a child at all. But a bird about 25 feet up in a tree.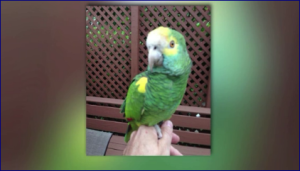 Turns out Ralphie had been missing for days. His owner lives about a mile away.
Police rescued Ralphie and brought him home.