This is an archived article and the information in the article may be outdated. Please look at the time stamp on the story to see when it was last updated.
SEQUOYAH COUNTY, Okla. – The District Attorney for Sequoyah County has determined that a deputy was justified in the deadly shooting of an armed man.
District Attorney Jack Thorp released a statement to the Oklahoma State Bureau of Investigations Monday, saying he was "declining the prosecution of Sequoyah County Deputy Christian Goode. It is clear from the investigation which includes numerous witness statements, items of evidence, photographs, and body camera footage that Deputy Goode was justified in utilizing deadly force when he was attacked by Phillip Trammell…"
On October 20, Deputy Goode and Muldrow Police Officer Brad Roberts, were attempting to serve a felony arrest warrant on Trammell in Muldrow, Oklahoma.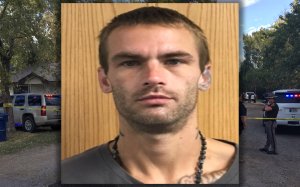 Trammell was reportedly wanted for forgery, child support and out of compliance with sex offender registry.
Deputy Goode and Officer Roberts entered the residence and found Trammell hiding from officers under a pile of clothes.
"At the time of the search, Deputy Goode was deploying a police baton and a flashlight," a press release states.
Deputy Goode gave Trammell commands to "show me your hands."
Trammell jumped up and responded "[expletive] shoot me!"
Deputy Goode once again told Trammell to show his hands, and that's when Trammell jumped up, reached behind his back, and pulled out a folding knife.
After seeing the knife, Officer Roberts deployed a taser, which was ineffective. Trammell charged at Deputy Goode with the knife, who was screaming he was going to "kill" the deputy.
Body camera footage captured the incident as Deputy Goode dropped his baton and retrieved his firearm.
Warning: Some viewers may find these videos disturbing. 
Officials say that's when Trammell "viciously thrust the knife at and into the body of Deputy Goode," who was wearing a ballistic vest.
In response to the attack, Deputy Goode discharged his firearm at Trammell.
"Ultimately, it appears that Goode fired five rounds from his service weapon, which finally stopped the deadly force attack," a press release goes on to say.
Deputy Goode was rushed to the hospital due to two sharp force wounds he sustained during the attack; one to the upper left abdomen and one to the left shoulder.
Trammell died due to the gunshot wounds.
KFSM reports Deputy Goode was taken to the hospital where he was treated and later released.