This is an archived article and the information in the article may be outdated. Please look at the time stamp on the story to see when it was last updated.
SEATTLE –Disturbing details have been released about the murder of a Washington mother who disappeared after a date with a man she met online.
Ingrid Lyne, 40, was last seen Friday, April 8th.
That night, Lyne reportedly went on a date with 37-year-old John Robert Charlton, a man who she had met online and had been dating since last month.
Her friends and family grew concerned when the mother of three did not pick up her children.
On Saturday, Seattle police say three adult body parts — including a foot, a human head, and an arm — were found in a homeowner's recycling bin in Seattle's Central District just after 4 p.m.  
Investigators later identified the remains as being those of Lyne.
In cooperation with the Renton Police Department, a search warrant was served in their jurisdiction, and evidence was recovered, including telephone calls, that helped police identify a suspect, KCPQ reports.
Police said, based on that evidence, Charlton was arrested in connection with Lyne's murder and booked into the King County Jail for investigation of homicide.
He is being held on $2 million bail for investigation of second-degree murder.
Suspect in death of Renton mother Ingrid Lyne has just appeared in court. #Q13FOX pic.twitter.com/Cl9PhZLp4y

— Brandi Kruse (@BrandiKruse) April 12, 2016
Judge finds probable cause in 2nd degree murder. Bail set at $2 million. #Q13FOX pic.twitter.com/ZZrGGihN9h

— Janet Kim (@JanetKimTV) April 12, 2016
He has not been officially charged.
During a hearing on Tuesday, prosecutors revealed new details of the crime, including the fact that investigators believe Lyne was killed in her own home, dismembered in her bathtub and transported in her own car to the location where her remains were dumped.
King County Deputy Prosecutor Jennifer Worley said Seattle police crime scene investigators "found bits of human flesh and blood in bathtub drain" in Lyne's home, where they also located a 15-inch pruning saw.
According to probable cause documents obtained by KCPQ, Charlton told detectives that he and Lyne had been dating for about a month and that he had spent nights at her home on previous occasions. He said he and Lyne returned to her home Friday night after attending a Mariners game.
"Charlton claimed that he had been so intoxicated on Friday night that he could not recall how he and Lyne returned to her residence after the Mariners game, or what transpired when they got there," the documents said. "He said he believed they had sex, and said Lyne was acting 'weird', but could not or would not provide further details."
Charlton said he was unsure how he left Lyne's home, "claiming that he assumed she must have driven him back to Seattle, where, he claimed, he slept on the sidewalk," the documents said. "Charlton said that he didn't think Lyne had plans with anyone else that night."
Court documents state Lyne's mother, Jorga Bass, texted Charlton on Saturday asking where she could find her daughter, who was not at home when Lyne's ex-husband, Phil Lyne, tried to drop off their kids, who lived with their mother.
He responded, "My name is John. I thought she was with her kids today?"
Bass replied, "When did you see her last? She's not here, her phone is here and driver's license and purse but she's not, please respond, I've called 911."
"911?" Charlton responded. "What's going on? We went to the Mariners game last night but we didn't stay the night together because she has her kids today … not sure what she had told you about me and our relationship."
"She's missing," the mother said. "What time did you see her last. A police officer needs to speak to you as you may be the last person who saw her. "
When Charlton did not respond, she texted, "Can you please call me? I know your name is John Charlton so please call me."
In her final text, Bass wrote, "Please John, did Ingrid say anything about someone coming to see her after you separated from her last night. We can't find her or her car. As I said her phone and ID and purse are at her house but she and her car are gone without a trace. Any help would be appreciated. We are desperate. She would never just go off and leave her family."
She apparently received no response, KCPQ reports.
Court documents state that although Charlton denied have any injuries, detectives "observed abrasions on his forehead, an injury to his lip, and to his chin.
Charlton has a criminal history in six states that includes convictions for aggravated robbery, felony theft, grand theft motor vehicle, fourth-degree assault and third-degree larceny. He also has arrests for burglary.
In 2006, Charlton's parents sought a temporary protection order against him.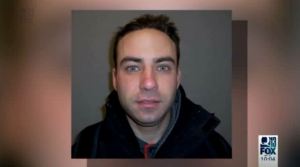 Ray and JoAnn Charlton said their son tried to provoke a fight with them when he was drunk and abusive.
However, the petition was later dismissed at the parents' request.
No possible motive for Lyne's murder has been released at this time.
Charlton's next court date is Thursday, April 14 which is also the deadline for prosecutor's to file any charges.
You can follow more on this case at KFOR's sister station KCPQ