This is an archived article and the information in the article may be outdated. Please look at the time stamp on the story to see when it was last updated.
ENID, Okla. - An Oklahoma rescue dog is making one extraordinary travel to its final home Thursday.
Shelby the Pekingese was rescued in Oklahoma and a family thousands of miles away wants him.
Now, his rescuers are sending him home in a way that has never been done before in our state.
The dog was rescued from Buffalo, Oklahoma, and brought to Enid.
He's now in a semi truck taking the long trip to a family who wants him so badly in North Pole, Alaska.
Just three months ago, Shelby was trapped in a make shift, tin pen with 31 other dogs and six cats.
Melba Evans with Furever Friends was called in to take some of the dogs, including Shelby.
"They were all in tin sheds they could not see," Evans said. "The feces and urine were inches thick, very sad, hurt, anger."
Shelby spent five years living within the hoard in Buffalo.
Since then, Joylene Estenson has been fostering Shelby, it was just a long pit stop for the pooch.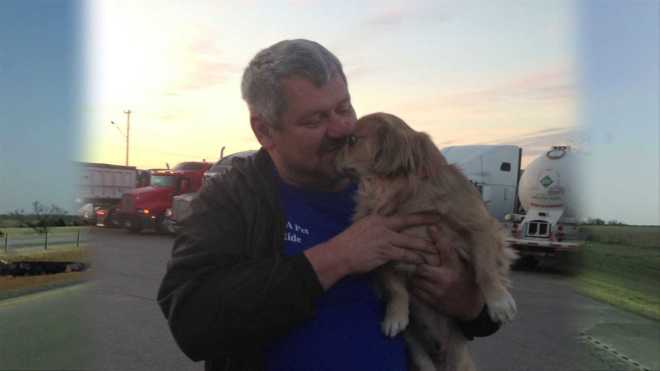 To get to Alaska, Shelby is he's hitch-hiking a ride with semi truck driver David Binz.
"I love dogs," Binz said. "I really care for them."
From Enid, Alaska is a nine-day trip by semi, an uncommon way to transport furry family members but it's something Binz has done several times before.
"My first one was probably the hardest," Binz said. "The lady that picked her up, she was crying so much because she had to take the dog away from me because the dog and I bonded so hard."
Binz volunteers for Operation Roger, a group of 25 truckers in the United States who will pick up a pet and nurture it the whole way home.
It works out because truckers are already on the road.
They don't just take dogs, they take birds, rabbits, snakes, any pet you can imagine.
Shelby's rescuers are sad to see him go.
"I get attached to him 10 minutes after I get him so, it will be hard, I'll be crying," Evans said.
It only costs $25 to get a pet transported by a truck driver and Operation Roger is always looking for new trucker volunteers.
To learn more, click here.