This is an archived article and the information in the article may be outdated. Please look at the time stamp on the story to see when it was last updated.
CLINTON, S.C. – A string of robberies has finally been solved in South Carolina after the crook was caught on surveillance camera committing the dastardly deeds.
Earlier this week, a Clinton Dollar General was burglarized, which is not that unusual.
However, workers say what was taken was a little strange.
Anastasia Polson, the manager at the store, said, "Pig ears, beef bones, dog food off the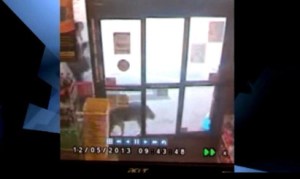 shelf, the little packets of dog treats."
The manager knew the cameras were rolling so she took a look and spotted the culprit immediately.
As it turned out, it was a shoplifting husky named "Cato."
The video showed that he waited for the opportunity to go into the store before stealing the items and hiding them behind the store.
His owner says the dog was able to escape from home and decided to get into a bit of trouble while out on the town.