This is an archived article and the information in the article may be outdated. Please look at the time stamp on the story to see when it was last updated.
MOORE, Okla. - News Channel 4 is investigating concerns about items donated for tornado victims ending up for sale at a local thrift store.
Jason Winick said part of his roof collapsed during the Moore tornado.
"The wind blew a hole in my roof and then it flooded into my living room."
Winick said he went to the Donation Station to get some assistance.
He said instead of receiving donated items directly, he got three vouchers that would allow him to collect $150 dollars worth of products at a thrift store in Del City.
"I'm very concerned that they are taking donations right behind Moore Medical Center which is devastated by the tornado and people believing that they are a tornado relief station," Winick said.
State Representative Mark McBride said he concerned as well.
He said he personally dropped off clothing at Donation Station but now worries his donation may not have been given to those in need.
State Rep. Mark McBride, Moore District 53, said, "They took the brand new 10 pair of jeans that I gave them and they took them to Del City and sold them, that irritates me."
Over the course of a week's time, we've tried repeatedly to sit down with the owner of Donation Station.
He declined our requests for an on-camera interview but we've had numerous phone conversations.
We asked him if some of the donation items people dropped off in Moore are being sold at Value Village in Del City.
"Donation Station has operated at the Moore location at least a year before the tornado hit," he said.
He told us, similar to Goodwill or the Salvation Army, Donation Station collects items people no longer want, then sells those belongings at its thrift store in Del City.
But unlike like the charities mentioned, Value Village is a for-profit business owned by Bazecorp Investments; that's confusing for some who donated.
"In this particular situation, I think is very misleading because, I myself, have dropped stuff off there and they've offered me a contribution card," McBride said. "No one tells you those items are going to be sold."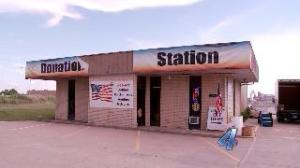 During our phone conversations, we addressed the other concern brought to our attention.
We asked if the prices at Value Village had significantly increased since the storm.
Some concerned about the situation said they believe that's taking advantage of people who are in need of help.
The owner said since the tornado, they have received higher ticket items than normal but he said in no way have they ever raised the prices to take advantage of victims.
Bottom line, he said tornado victims can use their vouchers to collect items from his store, but admits some of the items that were donated after the tornado might end up being purchased by the general public.
Representative McBride said he plans to create an accountability system so people who donate to storm victims are clear about where those donations end up.
We also learned a request has been made to the State Attorney General's Office asking that an investigation be conducted.
We do want to make clear, the owner of Donation Station told us that his company worked countless hours in the weeks after the tornado, directing donations to a number of charities and churches.
We checked with every organization he told us he had worked with and while we didn't hear back from all of them, the majority confirmed that they did receive truckloads of donated items from Donation Station.
The owner also told one of our producers, in the future, during disaster situations, he will make it clear to anyone donating items that those items might end up in his thrift store.