This is an archived article and the information in the article may be outdated. Please look at the time stamp on the story to see when it was last updated.
Bad beef!
The USDA is recalling nearly 90,000 pounds of beef because it could be contaminated with wood.
Sam's Choice Black Angus Vidalia Onion were sold at stores nationwide and could contain an unwanted fiber boost in the form of wood.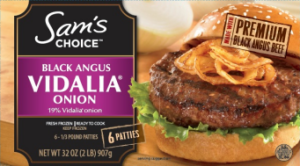 Huisken Meat Company, based in Minnesota, announced the recall Monday.
They come in a two-pound box with six patties inside.
If you bought a box, check the "use by" dates.
The contaminated burgers are marked with "use by" dates of May 17th, 2016, May 29th, 2016, and June 6th, 2016.
Officials believe the wood came from an ingredient in the burgers and was discovered during production.
So far no illnesses have been reported.
But if you have a box of the bad beef, eating it would be a bad idea.
Instead, toss it out or return the patties to the store for a refund.
For questions, call Debbie Green at 618-857-4011.
For more on the recall, click here.