This is an archived article and the information in the article may be outdated. Please look at the time stamp on the story to see when it was last updated.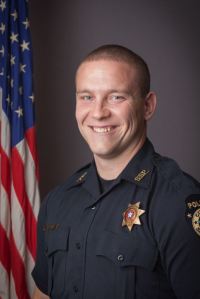 SAND SPRINGS, Okla. – Police in Oklahoma released dramatic body cam video of an officer opening fire on a vehicle heading straight for him.
The Sand Springs Police Department says Master Patrol Officer Matt Stacy attempted to stop Stacey Ann Bunsey, 41, who was allegedly driving a stolen vehicle through a school's parking lot.
When the officer got out of his cruiser, Sand Springs police say Officer Stacy fired two rounds at Bunsey as her vehicle drove towards him.
According to KJRH, police say Officer Stacy intended to set up a tire spike system to stop Bunsey , but was not able to because she was driving towards the entrance and his patrol vehicle.
The Sand Springs Police Dept. said that "when it became apparent to the officer of the suspect's intent, he fired his weapon after shouting twice for the suspect to stop."
Police officers say they were forced to taser Bunsey before she was taken into custody and arrested for possession of a stolen vehicle, eluding a police officer, assault and battery with a deadly weapon on a police officer, DUI drugs first offense and resisting arrest.
Officer Stacy was transported to the hospital with minor injuries.
You can watch the full video of the chase and arrest below.
[protected-iframe id="989681ad8de0697999ccdd3da81487a4-29519643-62065474″ info="http://ktul.com/embed/news/local/sand-springs-police-release-video-in-officer-involved-shooting" width="640″ height="360″ frameborder="0″]