This is an archived article and the information in the article may be outdated. Please look at the time stamp on the story to see when it was last updated.

ADA, Okla. — The statewide assault on electronic cigarettes continues.
Maude, Tecumseh and Shawnee have all approved bans on these relatively new devices on city property.
Now, e-cigarette users in Ada are fuming over a vaping ban.
Electronic cigarettes are devices that use a small battery to vaporize a liquid solution of flavored nicotine.
Starting November 21st, the use of e-cigarettes will be banned on all city property in Ada.
City Councilman Bryan Morris says Ada could receive grant money for including e-cigarettes in an outdoor tobacco ban they approved October 21st.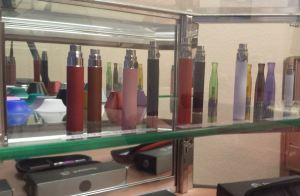 Ada could get up to $100,000 from the Oklahoma Tobacco Settlement Endowment Trust, which receives money from the tobacco industry's 1998 settlement that dealt with smoking-related illnesses.
But Morris says the ban is about being considerate to those in parks and other public places.
"There are people out there who want to be able to go our city parks, to our dog park, sports complexes," he said Monday, "and not be exposed to e-cigarettes."
Heather Richardson, owner of Darkside Vapors, is collecting signatures online and at her store on a petition that will hopefully change the city council's mind.
"If you see someone walking down the street with a vapor, it's not going to hurt you," she said.  "It's not hurting even the person that's using it.  They're completely safe."
The Oklahoma Tobacco Settlement Endowment Trust offers additional grant money to cities for banning e-cigarettes because they say addictive nicotine impacts brain development and can be breathed in through secondhand vapor.
Offenders in Ada could receive up to a $500 fine for violating the ban.