This is an archived article and the information in the article may be outdated. Please look at the time stamp on the story to see when it was last updated.
DUNCAN, Okla. – It was a night of remembrance as two college teams came together to honor their late teammate.
It was back in August when 22-year-old Christopher Lane was gunned down on the side of a Duncan road.
The Australian athlete was visiting his girlfriend when prosecutors say three allegedly bored teenagers fired a fatal shot.
During his time in Oklahoma, Lane played baseball for both Redlands Community College and East Central University. Both teams came together Thursday night to play an exhibition game in his name.
In honor of Chris, his girlfriend Sarah Harper threw the first pitch and looked on as three communities, affected by one tragedy came together with baseball.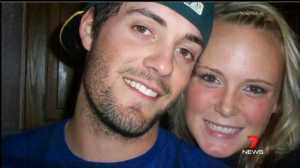 Just two months after East Central baseball player Chris Lane was gunned in Duncan, the city and his former teammates say it's time to celebrate his life with a sport he loved.
East Central University teammate Ethan Gold says, "He was my locker mate. He was close to a lot of us. He was close to all of us."
Lane played baseball for Redlands for three years where he met his girlfriend Sarah before transferring to East Central University.
Both teams say this is a competitive match up and Chris wouldn't have wanted it any other way.
Redlands head coach Matt Newgent says, "It's the fall and we don't keep score but we're still keeping score if you know what I mean! Chris would want it that way too so absolutely it's competitive."
East Central University teammate Eric Swann says, "He wouldn't want us to feel sad he would want us to come out here and compete in his name and that's what we're going to do today."
He will forever be missed, but East Central University and Redlands Community College say they're going to remember him the best they know how.
"They're wearing their Lane jerseys and everybody's excited about dawning the same jersey as him and going out there and memorializing him," says Coach Newgent. "It's going to be great."
All of the game's donations will go towards the Chris Lane Memorial Scholarship Fund.
Click here for more information on the crime.
To honor his life, his teammates and coaches have organized "Chris Lane Night at the Ballpark."