This is an archived article and the information in the article may be outdated. Please look at the time stamp on the story to see when it was last updated.
GUTHRIE, Okla. -- A man who unintentionally left his wallet at a Guthrie gas station Tuesday says the acts of a couple Logan County volunteer firefighters should be a lesson to everyone to pay it forward.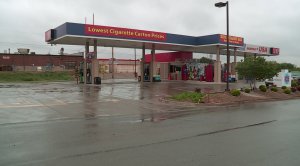 Robert Neria, 59, says he frequently fills up at pump seven at the Murphy USA gas station, located at 1616 S. Division St. in Guthrie; the number seven is his favorite number, too.
But it seemed luck wasn't much on his side when he went to fill up with gas Tuesday afternoon.
"I normally set (my wallet) on top, but usually will never let it—it's like a reflex motion, I grab it," said Neria on Wednesday afternoon.
Neria, recovering from recent back surgery, admits he had other things on his mind and was in a rush at the station. He accidentally left his wallet either on the top of his car or the gas pump, and drove away.
It's unclear where or how long his wallet sat on the pump or laid on the ground, but at some point, surveillance video shows an object fly across the screen.
"Those people didn't notice it," Neria said as he watched the video. "Right there -- it fell off the top of the car."
Thankfully, some firefighters with the Sooner Volunteer Fire Department did notice it and were there to snatch the money as it blew in the wind.
Two men later turned it in to Guthrie police.
"Money was flying around, they were running it down; $350 in small bills, it was flying everywhere and they stopped and gathered it all up," Neria said. "I had no idea I lost it, even. The police called me and [the dispatcher] said come down and get your billfold."
Considering some of the recent news coming out of Guthrie and Logan County, Neria says the commendable act by the firefighters should be a lesson for all to pay it forward.
"What comes around, goes around," he said. "Your life is what you make of it."