This is an archived article and the information in the article may be outdated. Please look at the time stamp on the story to see when it was last updated.
EDMOND, Okla. - Two people were arrested following a chase that ended in Edmond Tuesday morning.
At around 6:20 a.m., a homeowner near Coffee Creek Rd. and Kelley called police to report someone knocking on her door. She told police she had just returned home and found a truck parked in her driveway and a man knocking on the door while her husband and child were inside.
Officials say another man was also in the backyard at the same time.
The homeowners thought the two men were attempting to break into their home.
The truck left before police arrived, but an officer spotted the vehicle heading eastbound on Coffee Creek and turned around to check on it.
That's when the vehicle fled and a chase started, with speeds reaching to 90 mph.
Edmond police say they discovered the vehicle was stolen out of Del City.
Stop sticks were attempted to be put out at Coffee Creek and Midwest, but were not set up in time.
The men then went south on Douglas to 2nd St. before an officer performed a maneuver and the vehicle came to a stop.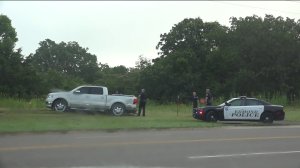 Officials say Marcus Moore and Ryan Johnson were arrested in connection to the incident.