This is an archived article and the information in the article may be outdated. Please look at the time stamp on the story to see when it was last updated.
Update:The body cam footage was released on Friday. It shows the moments after Isaiah Williams was arrested and how quick OKCPD had to move to protect one another.
Isaiah Williams is charged with aggravated assault and battery on a police officer and attempt to escape custody after arrest for a felony.
The 18-year-old is still in jail.
Update: Edmond Police officials tell News 4 Isaiah Williams was arrested by OKCPD Thursday afternoon in connection to a shooting near an apartment complex just north of UCO on Wednesday evening.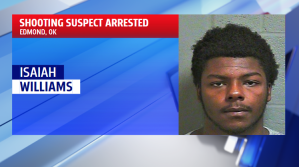 EDMOND, Okla. – Edmond Police are investigating after a man was found wandering an apartment complex with gunshot wounds.
First responders were called to the University Village Apartments just north of UCO around 6 p.m. Wednesday.
Officials say they had several calls about a man walking around the apartment complex parking lot who had been shot.
According to eyewitnesses, the suspect is in a grey Ford Taurus.
The victim is alert and speaking with authorities.
This is a developing story. We will keep you updated.