This is an archived article and the information in the article may be outdated. Please look at the time stamp on the story to see when it was last updated.
EDMOND, Okla. - A group of students in Edmond is getting in the Thanksgiving spirit by helping Oklahoma City children in need.
Mattie Long, a student at Clegern Elementary, said, "We have cereal and we have pudding cups and we have ramen noodles."
On Monday, Clegern students put together hundreds of Thanksgiving food bags for children at Shidler Elementary in Oklahoma City.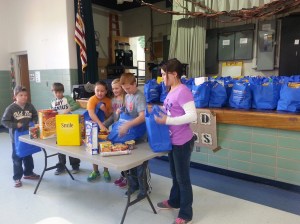 Shidler is considered to have one of the highest school poverty rates in the state.
Long said, "I'm thankful for these kids, that we get to have all this food for them."
Clegern students assembled around 200 food bags to help feed children over Thanksgiving break who rely on school lunches to eat.
Each bag is valued at around $38.
Hailey Brunner, another Clegern student, said, "They're going to be so happy when they see all of this that we're bringing them. It just feels so good to give it all to them."
At Shidler Elementary, 99 percent of the students are on free and reduced lunch programs, making the school have the second highest poverty rate in Oklahoma.
Allison Morris, a counselor at Clegern, said, "This is really all about giving back."
While children are helping other kids put food on the table, it's also teaching the students some life lessons.
Morris said, "They do something kind and positive for someone else, it starts this reaction of goodness to others and not only is it for other people, it's for them too."
Most importantly, the purpose behind the bags is to send a message to the kids in need.
Morris said, "I hope they just know somebody cares, someone was thinking about them and that they're important and that they matter."
Clegern Elementary collected more than $7,500 worth of food and supplies and delivered the food bags to Shidler Elementary on Monday afternoon.