This is an archived article and the information in the article may be outdated. Please look at the time stamp on the story to see when it was last updated.
OKLAHOMA CITY - Emergency crews investigated a hazmat situation that police say was related to a deadly officer-involved shooting from Thursday.
Crews responded to the area near Britton Rd. and Kilpatrick Turnpike.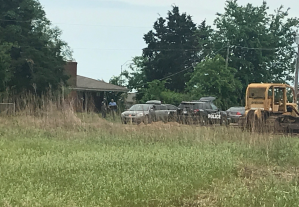 Fire officials tell News 4 they were called to the scene to look at a possible chemical.
Earlier, at about 11:15 a.m. Thursday in Cleveland County, the U.S. Marshals Service says an incident began when a Marshals Service task force began pursuing a suspect while helping the U.S. Secret Service attempt to arrest him.
Officials say the suspect got out of his vehicle and fired at law enforcement officers. The suspect was shot and later died from his injuries. He has not been identified.
Police say he was wanted on several warrants.  It was not immediately clear what the suspect was accused of.
A least one law enforcement officer was wounded in the shootout and sought treatment at a local hospital.
Authorities tell News 4 the two incidents are related.
Officials have not released any other details at this time.