This is an archived article and the information in the article may be outdated. Please look at the time stamp on the story to see when it was last updated.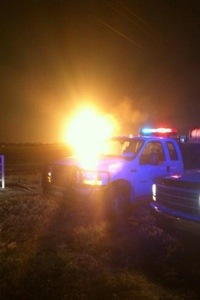 ROSSTON, Okla. – Authorities said no one was injured in a Harper County gas pipeline explosion overnight near Rosston on the Kansas state border.
Witnesses said flames shot so high into the air they could see them from 50 miles away.
The closest towns to the explosion are Englewood, Gage, Laverne and Rosston.
So far, there are no reports of serious damage to the surrounding areas.
Highway 283 is back open after a two-hour shutdown Wednesday morning.
Officials said homes in the area were evacuated as a precaution; none of them were damaged.
Northern Natural Gas authorities have not confirmed what caused the explosion.
Thomas Correll from Northern Natural Gas Company informed:
A 30" pipeline ruptured releasing an unknown amount of natural gas. The MAOP of the line is 860 psig.
A fire was started with the rupture but it was extinguished later and the line segment is isolated.
PHMSA is the primary regulatory agency for this report.