This is an archived article and the information in the article may be outdated. Please look at the time stamp on the story to see when it was last updated.
MCCURTAIN COUNTY, Okla. – Ten juvenile red-cockaded woodpeckers were relocated to southeastern Oklahoma from a donor population on the Kisatchie National Forest in Louisiana.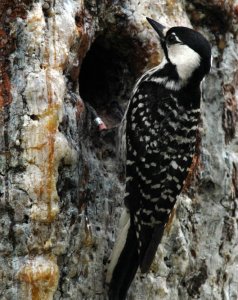 "Red-cockaded woodpeckers are really limited in our state. There are less than 100 in Oklahoma, and they're only found on the McCurtain County Wilderness Area and the adjoining Ouachita National Forest. Hopefully these 10 birds from Louisiana will stay in Oklahoma and help our population grow – in number and genetic health," said Clay Barnes, biologist for the Wildlife Department.
The boost in population of the endangered species is thanks to a partnership between the U.S. Forest Service, Louisiana Department of Wildlife and Fisheries and Oklahoma Department of Wildlife Conservation.
Eight of the ten birds, five males and five females, were released at the wildlife department's McCurtain County Wilderness Area and two were released on the nearby Ouachita National Forest.
Red-cockaded woodpeckers roost and nest in mature pine forests in the southeastern United States, and are unique among Oklahoma birds in that the breeding pair gets help during the nesting season from last year's offspring.