This is an archived article and the information in the article may be outdated. Please look at the time stamp on the story to see when it was last updated.
Update 9:10 p.m.: Fire officials tell News 4 that 24 to 25 homes have burned from Vici to Taloga.
The Rhea fire has now grown to 240,000 acres due to strong, gusty winds.
OKLAHOMA – Officials say one man has died from his injuries after a wildfire in Roger Mills County.
The Oklahoma Office of the Chief Medical Examiner reports the 61-year-old man died Thursday "as a result of injuries sustained in the fire that began southeast of Leedey."
A hunter was also reported missing Thursday, but was thankfully he was found alive Friday. He was flown to the hospital to be treated.
More than 100,000 acres have burned across the state since Thursday, including large fires in Woodward and Dewey counties that have prompted numerous evacuations.
The Oklahoma Forestry Services says residents in Seiling, Vici, Taloga and Putnam should evacuate immediately Friday afternoon.
Officials say Seiling residents should travel north or east – away from the fire.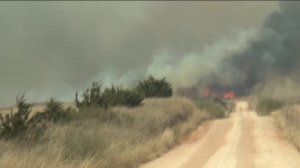 Taloga and Putnam residents should go south to avoid the fire.
Evacuation Ordered IMMEDIATELY for Seiling, Taloga and Putnum–residents should evacuate immediately.
Seiling residents should travel North or East away from the fire.
Taloga and Putnum residents should quickly go South to avoid the fire. #okfire

— OK Forestry Services (@OKForestService) April 13, 2018
[protected-iframe id="41b864ddbffd365f177ebe78ca15fa15-29519643-98557584″ info="https://www.facebook.com/plugins/post.php?href=https%3A%2F%2Fwww.facebook.com%2FOklahomaForestry%2Fposts%2F10160186123330632&width=500″ width="500″ height="546″ frameborder="0″ style="border: none; overflow: hidden;" scrolling="no"]
Fire officials are calling the fire conditions "historic."
Dewey County Emergency Management reports the Rhea Fire that started Thursday southeast of Leedey is now threatening Vici, Taloga, Camargo, Leedey, and Putnam. Oklahoma Forestry Services is supporting the fire with aircraft, and a task force, along with numerous fire departments and task forces also responding. The Rhea Fire is estimated at 82,000 acres. An additional fire is located southwest of Vici.
Woodward County Emergency Management reports the 34 Complex Fire that started Thursday is still burning. Numerous fire departments and task forces are responding. Oklahoma Forestry Services is supporting the fire with both air and ground assets. This fire is now estimated at 59,000 acres. An additional fire southeast of Woodward that started yesterday is being monitored and is now in mop up stage.
Oklahoma Forestry Services reports the Shaw Fire that started Thursday in Roger Mills County south of Durham is being monitored and is now in mop up stage. This fire is estimated at 7,250 acres.
Additional fires have been reported today in Beckham, Caddo, Osage, and Roger Mills counties.
Officials have also closed down roadways due to the wildfires.
In Beckham County:
Both lanes of westbound I-40 are closed at Erick (mm 7), however, motorists traveling to Texas are advised to not travel any further than Elk City (mm 38) due to wild fires in Beckham, Harmon and Dewey counties. These fires effectively eliminate any north or south alternate routes because there is no safe passage to the west into Texas at this time.
SH-30 between I-40 and SH-152 and between I-40 and SH-9 remains open at this time, but motorists are advised to use extreme caution due to wild fires nearby this route.
In Dewey County: 
SH-34 is closed at the US-60 junction at Vici south to Camargo.
SH-47 east of Leedey, OK is shut down
US Highway 183 at Putnam is closed
Governor Mary Fallin declared a state of emergency for 52 Oklahoma counties due to wildfires.
Under the governor's executive order, which is in effect for 30 days, state agencies may make emergency purchases and acquisitions needed to expedite the delivery of resources to local jurisdictions.
The governor's burn ban makes it unlawful for any person to set fire to any forest, grass, woods, wildlands, or marshes; to build a bonfire or fire; to burn or ignite fireworks; or to burn trash or other materials outdoors in any of the listed counties.
The National Weather Service says dangerous fire weather conditions are expected in much of western Oklahoma and the Oklahoma Panhandle through Saturday, with low humidity and strong winds of 20-30 mph and gusts of up to 50 mph.
Three relief funds have been set up to help wildfire victims.
Click here for more information.
This is a developing story.