This is an archived article and the information in the article may be outdated. Please look at the time stamp on the story to see when it was last updated.
PUSHMATAHA COUNTY, Okla. – A Colonial Spanish Mustang was allegedly stolen from a 200-acre pasture in Pushmataha County.
Chief Going Streak's owners filed a police report a few weeks ago, and the horse has yet to turn up.
Chief Going Streak has a reddish-brown and white Pint with a half brown, half white mane and a brown tail.
The 15-year-old horse weighs about 800 pounds and is about 13.3 hands tall.
The animal has a brand on his shoulder that is a "G" with a backwards "J."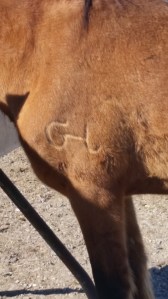 The horse has been the face of the Oklahoma Heritage Horse for numerous photographs and publications.
If you know of the horse's whereabouts, please contact the Pushmataha County Sheriff's Department at (580)298-2475.