This is an archived article and the information in the article may be outdated. Please look at the time stamp on the story to see when it was last updated.
OKLAHOMA CITY - The governor signed legislation repealing a hotel/motel tax, contrary to demands from educators to end the statewide walkout now entering its eighth day.
Gov. Mary Fallin signed HB 1012XX, which repeals a $5-per-night tax on lodging, Tuesday afternoon. The levy was part of a massive tax increase package signed into law late last month, days before thousands of teachers walked out of classrooms in the state, calling for better education funding.
The state's largest teachers union had called for Fallin to veto the measure, rededicating the estimated $50 million towards its intended education funding target. However, the fate of a $447 million tax increase package in the senate last month -- which included the hotel/motel tax -- was contingent upon the tax' repeal in the following days.
Still waiting for comment from @okea regarding its position now that the governor has signed the hotel/motel tax repeal into law. @kfor #okleg #oklahomateacherwalkout

— Bill Miston (@billmiston) April 11, 2018
The governor also signed two bills, that carried support of educators, estimated to replace the lost tax revenue. An online sales tax bill requiring third-party retailers to collect and send sales taxes to the state, affecting purchases made through sites like Amazon, is estimated to bring in $20.5 million. A bill expanding tribal gaming to allow ball and dice table games is expected to have an impact of $22 million.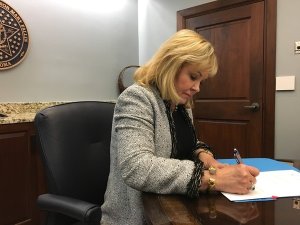 Fallin signed the state's $2.9 billion education budget -- which includes teacher pay and support staff pay raises -- into law last week. She said in a release announcing the signings Tuesday that her actions will likely "complete funding K-12 public schools" for the upcoming budget year.
"The revenue package that funded the teacher pay raises would not have passed the Senate with the required super majority, or three-fourths support, had a bipartisan agreement not been struck to repeal the hotel/motel tax," said Fallin in a statement. "This shows again that education is a priority with legislative leaders and me. The single-most important thing we can do to help Oklahomans have fulfilling and productive lives is improving the quality and outcomes of education."
Fallin urged lawmakers to turn their attention to other issues facing the state, like criminal justice and core services funding, ahead of finalizing the state budget.
With the teacher walkout in its seventh day, the Oklahoma Education Association had demanded Fallin to veto the $50 million hotel-motel tax repeal and legislators find an additional $50 million to allocate to education funding to end the walkout. However, it doesn't appear it will end anytime soon.
After the signing, the OEA released a statement, chastising the governor's move.
"Governor Fallin has spent years doing far too little for public education, so it's no surprise that she took measures to further neglect students today," said OEA President Alicia Priest in a statement late Tuesday night. "The governor and lawmakers keep closing the door on revenue options when Oklahomans are asking for a better path forward."
The OEA then called for lawmakers to be challenged at the polls, adding that the candidate filing period starts Wednesday.
Stanchions are set up on the ground floor west wing for state candidate filing, which begins Wednesday at 8 AM. A number of educators have said in the past week they plan on filing to run for public office. @kfor #okleg pic.twitter.com/kbbLndHsY8

— Bill Miston (@billmiston) April 11, 2018
A number of teachers during the last week have announced they plan to run for a state legislative office in light of what some have said is a lack of prioritizing education by state lawmakers, who have slashed the education budget over the last decade.
Despite the political back and forth, teachers continue to stand strong in their position for additional classroom funding.
"My kiddos are 10 and 11 years old. We haven't had significant funding increase their entire lifetime," said Stephanie Sanders, a teacher from McLoud. "I've been here everyday since last Monday as you can tell from my sunburn, wind burn face. We've been out marching and we've also been talking to our leaders, our representatives."
However, Republican lawmakers have questioned the options left after the passage of the budget and improbability the house will take up capital gains legislation this session, which has been a demand by OEA to end the walkout. Fallin also signaled opposition to removing the capital gains tax break approved by voters in 2004.