This is an archived article and the information in the article may be outdated. Please look at the time stamp on the story to see when it was last updated.
EL RENO, Okla. (KFOR) — Families who have loved ones buried at the El Reno Cemetery are in an uproar after seeing damaged decorations at several gravesites.
"She didn't have anyone that didn't like her to come and, you know, vandalize it," Margaret Bigfoot, whose cousin is buried at the El Reno Cemetery, said. "There was a plaque with her name on it, when she was born and when she died."
Bigfoot told News 4 that plaque disappeared, along with the decorations. All that is left is just some shattered pieces that were left behind.
"It wasn't savable. It was just like they just ran completely over it," Bigfoot said.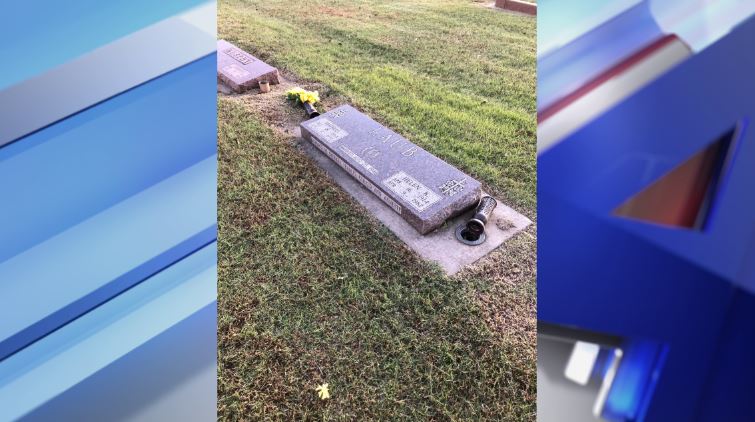 This past weekend, people who have loved ones buried at the El Reno Cemetery took to Facebook to voice some concerns about damage to gravesites.
Bigfoot said that she initially wondered if maintenance crews with lawnmowers were to blame, so she got on Facebook. Once on social media, she saw similar stories from others, like Donna Gregory.
"I have a photo where these Chinese lanterns had been hanging by one of the graves since at least 2015. They're on the ground broken, vases around some of the graves in that block, turned over," Gregory told News 4.
Her grandfather's VFW medallion was also bent, just a month after her father's medallion got the same treatment. Other name markers have also seen better days with several of them bent over as well.
"The cemetery board and the City of El Reno need to actually go out and look at the damage," Gregory said.
City officials told News 4 they aren't aware of any damage at the cemetery. They also said those name markers are only allowed to be in place for 90 days until a headstone is made.
City leaders say there is also a rule regarding toys and "trinkets." The rule states that decorations are not permitted if they get in the way of the lawnmower.
However, people with loved ones buried beneath the grounds told News 4 they're still feeling violated.
"It was really disrespectful for our family. With my cousin not being here, I feel like, you know, I'm supposed to look after her grave and it's like we kind of disappointed her," Bigfoot said.